One machine – six functions
With the debarking machine you can debark, sharpen and chamfer all kinds of wood easily and effortlessly, with the K+ comfort version you can additionally saw, cut in the middle and cut to length.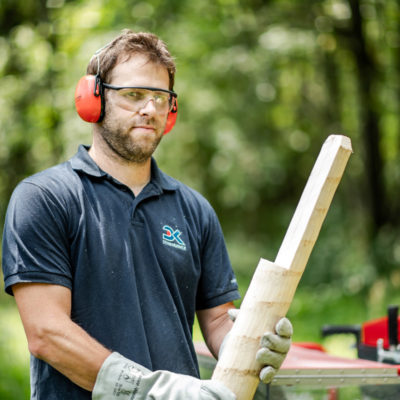 Debarking
When debarking damaged wood, beetle-infested wood or weak wood with a diameter of 3 to 25 centimetres, only the bark is peeled off with a four-blade peeling disk. In contrast to milling, the timber is preserved in its natural state. This is particularly important for wood species which have the highest density on the outside (i.e. under the bark) and are therefore more durable and weather-resistant (e.g. spruce). Whether wet or dry, slightly curved or conical, soft or hard, from maple to Swiss stone pine – even smaller branch knots do not alter the high quality when peeling.
The rotation is automatic, logs and poles do not have to be turned manually.
Several adjustment options offer a high degree of flexibility when peeling:
by means of a tension spring, the contact pressure, which varies depending on the tree species and bark thickness, can be varied; especially for dry wood, higher pressure is required
by means of a threaded spindle, the feed can be infinitely adjusted, e.g. to produce an almost cylindrical shape from a conical wood or for faster debarking
by inserting other feed screws (accessories), the speed during peeling can be significantly changed
Sharpening
The debarking machine sets no limits to sharpening. Whether almost blunt or tapered over the greater length – pegs and poles can be sharpened round or square-edged – simply, quickly and reliably using a sharpening device on the peeling disc. The sharpening angle can be precisely adjusted with a spindle.
In the K+ comfort version, angular sharpening is also possible with a saw. A sliding plate quickly deflects the wedge-shaped offcuts and prevents them from being thrown back.
Chamfering
The ends of the logs can be chamfered cleanly with the peeling disc. The angle and chamfer thickness can be freely selected.
Sawing
The extension of the standard S-version by a fully-fledged (table) circular saw offers a multitude of efficient processing options: Sawing of logs, pieces of wood and boards, splitting, transverse cutting and sharpening of round timber or trimming of boards. The investment thus pays off quickly.
For continuous accurate work, there is a stop with a measuring ruler and millimetre scale.
Safety is particularly important when sawing: A slide plate ensures that sharpening waste can no longer fall back to the saw blade. Of course, the saw is also TÜV-tested and equipped with all necessary safety devices.
Splitting
Here, once again the high practicality of the machine is demonstrated, in addition to another unique selling point: A V-prism as centring device guarantees central guidance, so that even slightly curved, irregular woods and rods can be continuously divided in the middle. The prism can be folded in. Splitting is possible up to a diameter of 19 centimetres.
Transverse cutting
The all-round machine! Regardless of which product is to be produced from damaged or weak wood: With the debarking machine, all work processes can be carried out quickly. This saves effort, time and money. Round logs, pegs and boards can be cut to length with the saw.
Slide 1
Six functions, just a few steps!
Slide 1
Six functions, just a few steps!