Slide 1
Debarking machine K+
Die großzügig ausgestattete Komfortvariante K+ lässt bei der vielseitigen Verarbeitung von Schad- und Schwachholzaller Art von 3 bis 25 Zentimeter Durchmesser keine Wünsche offen.
6 Functions
With the six functions, namely debarking, sharpening, chamfering, sawing, transverse cutting and cutting to length, wood can be processed economically and extremely flexibly.
The all-round machine!
The K+ comfort variant combines all advantages of the standard version and a circular table saw. This combination enables the maximum range of application with six processing options and every imaginable operating comfort.
The fold-out support brackets reduce the physical strain during debarking, while the fold-out support posts reduce the exertion when sawing. The longitudinal ruler or stop made of sturdy aluminium profile facilitates accurate sawing and cutting to length on the table. Boards and poles can be precisely trimmed and cut to length using the millimetre scale. The prism-shaped centring device ensures that even slightly curved wood is always cut evenly lengthwise in the middle.
In addition to the peeling disc with high-alloy steel blades, the excellent tool equipment also includes the saw blade with carbide-tipped cutting edges.
Like the standard version, the circular saw also complies with all standards and regulations and is comprehensively TÜV (Technical Inspection Association)-tested. It is decoupled from the PTO shaft and thus complies with the latest EU safety standards. A sliding plate prevents wedge-shaped waste from being thrown back during sharpening.
A machine with six functions
How to earn good money with damaged wood
With the comfort variant K+, all types of wood, even slightly curved, wet or dry, from 3 to 25 centimetres in diameter can not only effortlessly be debarked, sharpened or chamfered, but also sawn, cut in the middle, trimmed or cut to length.

Slide 1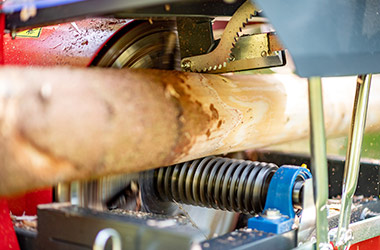 Debarking
Damaged wood, beetle-infested wood or weak wood with a diameter of 3 to 25 centimetres is debarked with a four-blade peeling disk.
Sawing
Sawing of round timber, logs and boards, splitting, transverse cutting and sharpening of round timber and trimming/cutting of boards.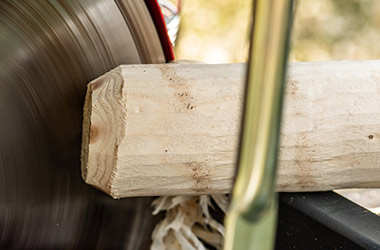 Chamfering
The ends of the logs can be chamfered cleanly with the peeling disc. The angle and chamfer thickness can be freely selected.
Sharpening
The debarking machine sets no limits to sharpening. Regardless of whether it is almost blunt or tapered over its greater length.
Splitting
A V-prism as centring device guarantees central guidance, so that even slightly curved, irregular woods and rods can be continuously divided in the middle.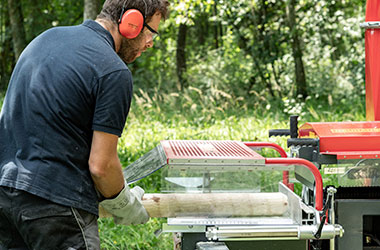 Transverse cutting
With the debarking machine, all work processes can be carried out quickly. This saves effort, time and money.
Sawing made easy
Impressively accurate and simple
Debarking and umpteen benefits!
Slide 1 - copy
Damaged and weak wood is too precious to simply be left to rot in the forest - especially as the price of firewood is significantly lower than that of wood.
Eight times the value of wood
Would you like to find out how much you gain by debarking?
Slide 1
Six functions, just a few steps!